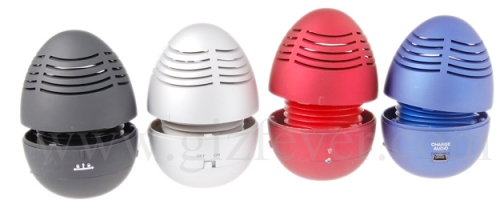 We've seen our share of portable speakers and so far our favorite so far has to be the X-Mini Capsule speakers, mostly because they are compact and they went wireless recently. Close behind would probably be the Easter Egg Tumbler Speaker. This device, like the X-Mini, pops open to extend out the chamber a little bit and add some more bass into the pint-sized speaker (or about as much base as you can expect from something like this.) It also comes egg-shaped and heavy at one end so that it can't be tipped over when being bumped around on your desk
Each comes as a single speaker with an audio cable for input and a USB cable that powers and charges in the internal battery. No word on exactly how much juice the speaker puts out but we're guessing 1W, and it's pretty hard to say on the battery life if you wanted to use this with your media player.
GizFever has these Easter Egg Tumbler speakers available for $17.99 each in colors of Black, Blue, Red and Silver.
easter egg, Egg, portable speakers, speaker, Speakers, USB