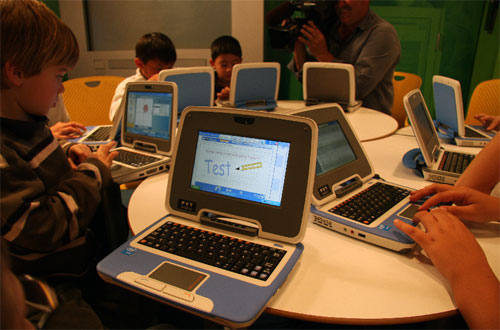 The idea of putting notebook computers into the hands of kids around the world to allow them to improve their education is a noble thought. The field was pioneered by the OLPC with its XO Notebook and an early partner with the OLPC was Intel.
Once Intel caught a glimpse of what the market could be for ultra low cost notebooks it entered the fray with its own low cost notebook called the Classmate. Intel announced today that it has the second generation Classmate ready for use around the world.
All second generation Classmate PCs will run on Intel Celeron M processors, feature 802.11b/g networking and mesh networking capability. On the high-end the second generation Classmate will get a 9-inch screen, 6-cell battery, 512MB of memory and a 30GB hard drive. Intel also says that future versions of the Classmate will use the newly introduced Atom processors.
Classamte, Intel, OLPC