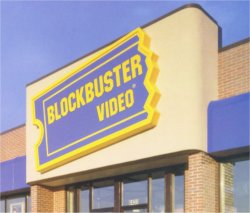 Blockbuster has been rumored to have been secretly working on some new technology in the works that would allow streaming video content from an online rental service direct to consumers televisions, and could be available as soon as the next few weeks. No information has been given on the exact technology or price but the service could again bring the home video renting giant back up to par and possibly ahead in technology, compared to other rival video renting services from Netflix and Apple.
Netflix would be directly affected by this new service by Blockbuster and has recently upgraded their service to provide unlimited streaming to some subscribers, however it streams to their computer and not necessarily to the living room of most consumers. In order to work their way into more entertainment centers, Netflix is also looking into providing streaming video rentals through Microsoft's Xbox 360 game console.
Apple is another competitor in the streaming-to-TV market with the Apple TV which hasn't been a complete success but with Apple TV Take Two, allows users to order and stream movies directly from their TV instead of having to use a computer in between.
Although details were not given, sources cite that the service will be provided through MovieLink which was acquired by Blockbuster last year and was a joint venture between MGM, Paramount, Sony, Universal and Warner.
Blockbuster, Rumors, streaming video