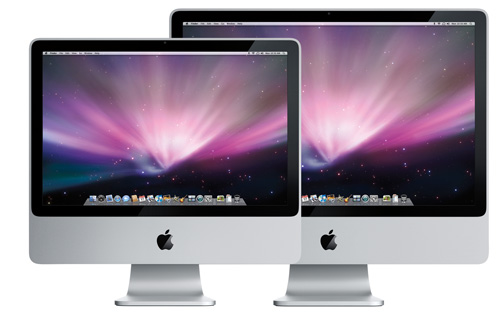 Apple made some updates to its line of popular iMacs today, including adding the latest Intel Core 2 Duo processors. These new iMacs have starting prices of around $1,200.
The refreshed iMacs now include, according to Apple, faster Intel Core 2 Duo processors across the line, a 1066 MHz front-side bus and up to 4GB of 800 MHz DDR2 SDRAM memory. The 24-inch iMac also offers a 3.06 GHz Intel processor and the high-performance NVIDIA GeForce 8800 GS graphics as options.
Other features of the iMacs include built-in AirPort Extreme 802.11n Wi-Fi networking, Bluetooth 2.1+EDR, Gigabit Ethernet, a built-in iSight video camera, a total of five USB 2.0 ports (including two on the Apple Keyboard) and one FireWire 400 and one FireWire 800 port. The updated models are available now.
Apple, desktop computers, imacs