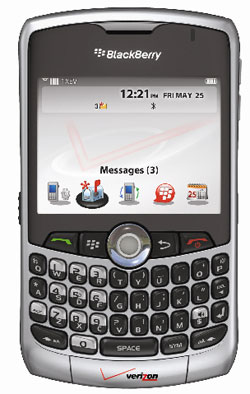 Smartphones are quickly growing in popularity as people become more accustomed to the idea of doing things on a phone other than simply making phone calls. Phone users today want email, web surfing, GPS navigation and more in their devices.
Verizon announced today that it is getting its very own BlackBerry Curve in May. The Verizon Curve will be in a liquid silver color with chrome accents. The curve will also be compatible with Verizon's EV-DO service and VZ Navigator.
Feature wise the Verizon Curve is the same as the other Curve phones that have been available on other networks for a while now. The phone has a full QWERTY keyboard, a 320 x 240 resolution display that automatically adjusts for indoor or outdoor viewing and more.
BlackBerry Curve, Verizon