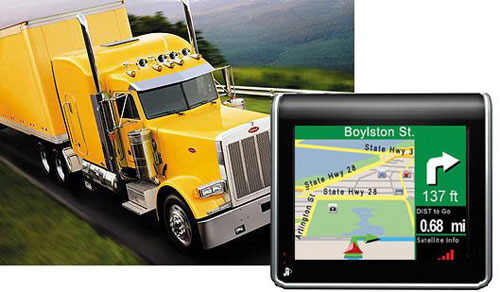 Apparently if you are, say, driving a big rig loaded down with some mysterious WMD you probably can't get onto normal roads with your cargo. TeleType has unveiled therefore the WorldNav Portable GPS solution, available in both 3.5- and 7-inch screen sizes.
TeleType's WorldNav system isn't the type of GPS you put into your car unless you carry huge payloads or drive RVs. It is designed to help you choose roads which are best suited for your larger vehicle, allowing you to enter information such as your truck's height, weight and length. It then takes into account commercial truck restrictions such as bridge heights and clearances, load limits, one-way road designations, left-hand and dangerous turn restrictions, and allowances when offering routing choices for you to drive.
Other features of the WorldNav system from TeleType include U.S. and Canada maps preinstalled, a MP3 player, 12+ million Points of Interest pre-loaded including truck stops and weigh stations and your own waypoints. There's also Hazmat routing, just in case you find yourself hauling some weird, green bubbly stuff.
Automotive, GPS, teletype