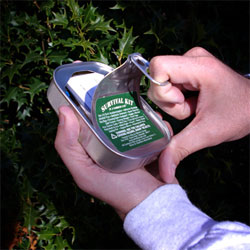 I have never been fond of food that has eyes and can look at me as I eat it. As such I stay away from salty, fishy snacks like sardines. ThinkGeek has a new survival kit that is packed in a sardine can to provide a waterproof seal for the necessities of life should you find yourself stranded on a desert island.
ThinkGeek says the can is airtight, waterproof, crushproof and packed with 25 survival items including a non-aspirin pain reliever, adhesive bandage, alcohol prep pad, antibiotic ointment, book of matches, compass, chewing gum, sugar, salt, energy nugget, duct tape, fire starter cube, first aid instructions, fish hook and line, note paper, pencil, razor blade, safety pin, reflective signal surface, tea bag, waterproof bag, whistle, and wire clip.
The tin measures 4.25-inches x 3-inches x 0.9-inches. I bet Tom Hanks would have preferred this tin over Wilson. The kit must have been invented by an Englishman since tea is an essential survival tool. One would think that some sort of water purification tablet would have been a better choice.
food with eyes, survival