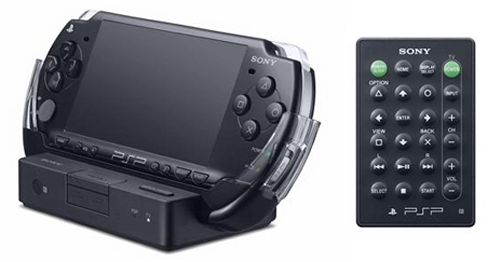 Sony continues to come out with some pretty cool stuff for the PSP, and it looks like this PSP Cradle is a must for anyone that uses their Playstation Portable to watch movies. It would be especially handy for those in Japan that can get the 1seg TV signals, which is probably why this is unfortunately launching in Japan only, for now.
The cradle docks the PSP and holds it upright so you don't have to hold it or balance it against something to watch videos, and comes with an IR remote control so you can set back and control the playback without having to get up and press the little buttons on the PSP. The PSP Cradle will also charge the handheld device when plugged in and docked, and optionally comes with AV cables to hook up a bigger scren.
Those in Japan should start seeing this hit shelves on April 24 for ¥6500 (about $60 USD) bundled with the AV cables or ¥4800 (around $45 USD) without them. There was no mention of a release for any other markets at this time but we'll keep hoping.
Dock, Playstation Portable, PSP, PSP Cradle, PSP remote, Sony