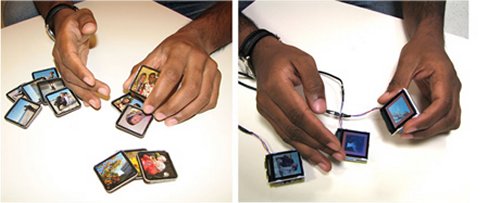 Now here is something you don't see every day. This Siftables prototype designed by David Merrill and Jeevan Kalanithi at MIT was created to give some physical interaction between you and your information and media. These guys jumped right past moving things around on the screen "Minority Report" style, and provided these little independent devices each with their own display that interact with each other and you computer.
Each device also contains a 3-axis accelerometer to sense movement and it's current position, Bluetooth, Flash memory, its own processor, infrared, a touch sensitivity and a little battery battery. According to the designers, the Siftables take advantage of the humans ability to sift and sort through a number of small items with their hands, while at the same time keeping their mind on the larger goal.
The devices interact and sense proximity to each for grouping and interacting, as well and interact with the computer for sorting through pictures and ideas quickly and easily in a more natural manner, compared to moving things around in something like Visio, or trying to group pictures together in a virtual folder.
No word on when you could actually get your own hands on a Siftables or what they might cost, but they are already beyond a concept and into a prototype that the MIT team is collaborating with for potential real-world uses.
via OhGizmo
Concepts, David Merrill, MIT, Peripherals, Siftables