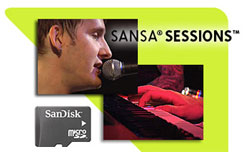 We all like our music without DRM and many places from iTunes to Wal-Mart are now offering tracks with no DRM. SanDisk announced that it will able be offering exclusive tracks that are DRM free pre-loaded onto microSD cards.
SanDisk says that it will promote more than 50 new and emerging artists on microSD cards to help launch the new 8GB Sansa Fuze PMP. The "Sansa Sessions" microSD card includes music across several genres including rock, pop, hip hop and the cards include music videos and photos from more than 30 record labels.
Featured artists on the "Sansa Sessions" microSD cards include All Time Low, Ladytron, Magnet, Nada Surf, Of Montreal and The Coup. SanDisk also says that for a limited time buyers of the 8GB Sansa Fuze will get a coupon inside the package to redeem for a free "Sansa Sessions" microSD card with music on it.
SanDisk, Sansa