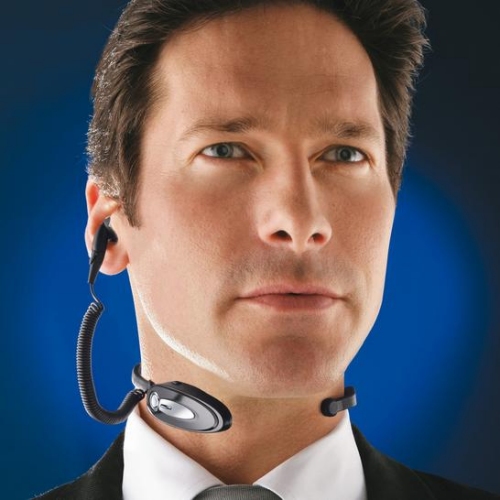 If you feel that talking to seemingly no-one in public with a Bluetooth headset in your ear isn't bringing quite enough unnecessary attention to yourself you can try your hand, or your neck, at this RoadRunner Bluetooth Communicator.
The RoadRunner connects to your mobile phone much like a regular Bluetooth headset with the difference being that you wear this one around your neck instead of on your ear. The device picks up vibrations from your larynx when you talk and converts them into a voice. There's also a small corded ear piece that connects up to your ear.
Just how good this sounds is hard to say but if it works at all it would be handy when your in high-wind places like a convertible or on a motorcycle since it's not going to pick up any actual wind noise. Two hours of charging give the device 9 hours of continuous talk time and the whole device weighs around just one ounce. This Bluetooth neckset will get your undercover spy look on for a mere £39.50 (about $78.50 USD).
Product Page via Crave
TAGS:
Bluetooth, hands-free, Headsets, larynx, neckset, Roadrunner