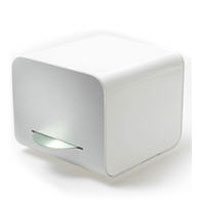 A company by the name of Ripfactory which offers professional CD ripping services is adding a new piece of hardware to its product line. It is called the Ripserver and it will cost you somewhat above $1,400 for a 1 TB model.
The Ripserver from Ripfactory is a network area storage device with a built-in CD ripping solution. One inserts a CD into its slimline slot and lets the Ripserver do the rest. It automatically copies the CD's music, ejects it and makes the music available on one's network for listening or transfer to a digital music player.
This music NAS device reportedly requires no PC to operate and itself runs on an embedded Linux operating platform. Storage options include 500 GB and 1 TB, which includes space for metadata and cover art the Ripserver stores with each album. It looks to be available now.
Digital Audio, NAS, ripfactory