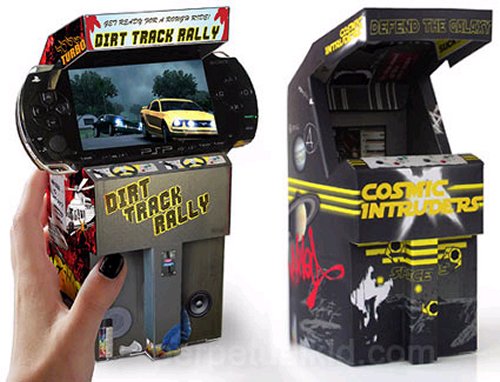 Not a full size arcade machine, of course. Your PSP screen would be really tiny inside of a huge cabinet. This might be the most useless PSP accessory ever, but it's also one of the coolest. You can turn your PSP into a small retro cardboard arcade machine, straight out of the 80′s.
The cardboard mini game for PSP comes in a pack of two, with authentic graffiti and mall-rat trash. It only costs $12.49. This is a perfect way to relive your youth, but on a smaller scale. Personally I dig the Cosmic Intruders version.

If all your friends bought these, you could open up an actual arcade for tiny people. The only problem is there's no coin slot on a PSP, so you won't be making any money.
Arcade, cardboard, flatpack cardboard, Games, PSP