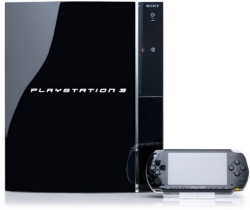 It looks like Sony's next firmware update for the PS3 might include even more than the BD-Live interactive content on Blu-ray discs and the loss of the max file size for some video media. According to PCWorld the 2.20 firmware upgraded for the PS3 will also bring the ability to transfer Blu-ray movies from discs on the PS3 to the Playstation Portable.
This would be a nice feature for Sony to add sounds like it would be not unlike the Digital Copy we saw from FOX movies for iTunes. Instead of taking the time to convert each film into a special version for the PSP, some Blu-ray discs would have a "portable copy" of the movie that can be transferred to the PSP.
It sounds like this would be available for only the PSP, which we have to admit is nice and is another great additional feature for those that own a PSP (and a PS3) since it gets rid of the need for a UMD for the movie, but it would be nice to be able to get that copy onto other media players as well. I know, we're never happy but hey, if they're going to let us share the Blu-ray movies we bought to other players, why not all of them?
The 2.20 update is expected to happen by the end of March so we should be seeing it at least sometime in the next week.
2.20, Blu-ray, firmware, PS3, PSP, Sony