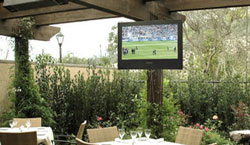 Pantel seeks to bring the fun of HDTV to the outdoors with its new LCD panels. These models are known as the 42-inch PAN420 and 32-inch PAN320 and they price at $4,450 and $3,950 respectively.
Pantel has built its HDTVs to be weatherproof, operating in conditions the company says can reach -40 or 140 degrees Fahrenheit. The panels sport over 1,000 nits of brightness, reportedly make them bright enough to see outdoors. Resolution is set at 1366 x 768.
Other features of these new Pantel televisions include wireless RF to broadcast HD audio and video up to 150 feet from the television and an included remote. Availability should be now.
HDTVs, Outdoors, pantel, weatherproof