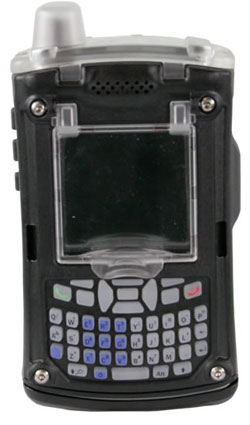 There are a lot of people out there rocking the Treo, even though newer and cooler devices like the iPhone are available. If you are fond of your Treo and want to keep it pristine as the day you unwrapped it, OtterBox has your back.
OtterBox has a pair of cases designed for different Treo models, the 1920 fits the Palm Treo 650 and 750 and the 1921 fits the Treo 680, 750, and 755p devices. The cases are designed to keep your beloved phone safe from rain, dust, dirt and hopefully 3-year olds– the bane of all smartphone's existence.
The cases protect the entire phone including the keypad, touch screen, volume and program buttons while maintaining the functionality of the phone. Construction for the case is polycarbonate/ABS with a rubber overmold for grip and drop protection. The protective LCD cover flips up for interactive screen access. That last bit is too bad; the iPhone case has a protective film over the screen that still allows full touch screen use. Both cases are available now for around $99.95.
Otterbox, Palm, Treo