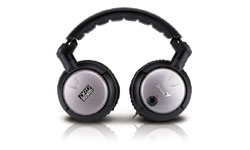 A brand division of KYE Systems known as Genius introduced today some new headphones which offer surround sound as an option. It is called the Genius GHP-05 Live and it prices at around $60.
The Genius GHP-05 Live offers up a a type of surround sound called DRD True 3d sound. This reportedly enhances bass and dynamic ranges for a better listening experience. It comes outfitted with padded ears which swivel for more comfort.
Other features of the Genius GHP-05 Live include an extension cable, a 3.5mm-RCA converter, and a 6.3mm gold plate adaptor to connect to any audio device. It is available now.
Genius, Headphones, kye systems, surround sound