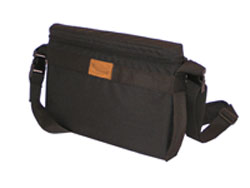 iLugger is a brand name associated with LTA Projects and a retailer of carrying cases. This particular group of folks unveiled today the BookLugger, a stylish carrying bag for MacBook owners.
The BookLugger comes in two different sizes: one for a 13-inch MacBook and another for a 15-inch MacBook Pro. iLugger says one is also in the works for the 17-inch MackBook Pro. All are made of a ballistic nylon, making them reportedly quite durable and sturdy.
Features of the BookLugger include detachable shoulder strap and carrying side handle. These bags are available now and will cost you around $80 for each.
Apple, Baggage, booklugger, carrying cases, ilugger, macbook pros, macbooks