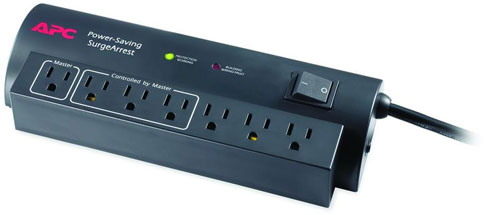 APC is out today with news of a new power strip it says "provides home computer systems guaranteed protection from damaging surges and spikes, while saving electricity." It is called the Power-Saving SurgeArrest and it prices around $35.
The APC Power-Saving SurgeArrest has built into it master/controlled outlets which automatically shut down power to unused peripherals, such as printers, scanners and speakers when the computer is in sleep mode. It does this by sensing the power draw of connected equipment and realizing that when an attached computer on the master goes into standby, hibernation or is turned off, the controlled outlets are automatically powered off to prevent connected peripherals from continuing to draw power.
Features of this power strip include a six foot cord, seven outlets and telephone/fax/modem protection to "prevent surges traveling over data lines from reaching connected equipment." It should be available now.
APC, Power Strips