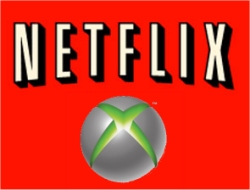 Netflix has officially confirmed rumors that they are indeed looking into streaming video content through Microsoft's Xbox 360 game console. Spokesman Steve Swasey did not confirm that Netflix and Microsoft have any partnership currently in the works, but Netflix has started surveying existing customers to gauge their interest in a new, additional offering through the game console.
Netflix' business model has traditionally been to provide a subscription of physical DVDs that are shipped to customer's homes, but has been working diligently to keep up with new technologies and customer demands for streaming video. The company created a partnership with LG earlier this year for a set top box to stream video content into its customers living rooms, and last year started offering online video through computers which recently increased to unlimited content for $17 per month subscribers.
Microsoft also already offers streaming video and television shows through the Xbox 360 with Xbox Live which are rented on an individual basis, but a new addition from Netflix would likely expand the available selection and allow both Netflix and Xbox customers more online video "bang for their buck".
movies, Netfix, online movies, streaming movies, video, xbox 360