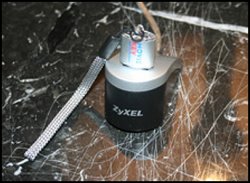 Irish startup PortoMedia will soon be offering movie rentals on flash drives instead of your typical media device. It's a pretty simple concept. The company sells you a flash storage device along with a special $50 card reader that has a super fast proprietary USB connection of 95 megabits per second.
Just take the flash card to any location that has a company kiosk. The kiosks will contains hard drives that store hundreds or even thousands of movies. Enter your ATM pin code, choose your movie, and download it in less than a minute. After that, you just go home and watch it. It does have it's advantages over DVD or Blu-Ray. They would never run out of movies, no return neccessary, no long lines and you could get movies anywhere, whether it be the mall, supermarket, even a gas station.

It sounds too good to be true. There must be a hidden ATM type fee somewhere, but I hope we see this one in practice very soon.
[Portomedia] VIA [The Raw Feed]
drive, flash, Memory, movies, portomedia, rent