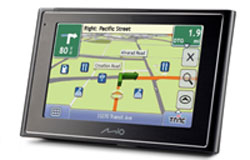 Navigation units are becoming one of the most used car electronics devices around. They are a great way to get from location to location without having to stop and ask directions and without getting lost or having to resort to a paper map.
Mio Technology announced four new GPS devices today using content from its recently acquired Navman purchase. The four devices are the Mio Moov 200, 210, 300, and 310. All four models have a touch screen with the 210 and 200 using a 3.5-inch touch screen and the 300 and 310 units featuring 4.3-inch touch screens.
All four units utilize the 20-channel SiRFstarIII with SiRFInstantFixII GPS receiver. All four units also have a built-in speaker and use USB 2.0. The units also have pre-loaded maps of all 50 states and Puerto Rico. The Moov 200 retails for $179.95, the 210 is $199.95, the 300 is $229.95 and the 310 is $249.95. All four units will be available starting on April 1.
GPS, Mio