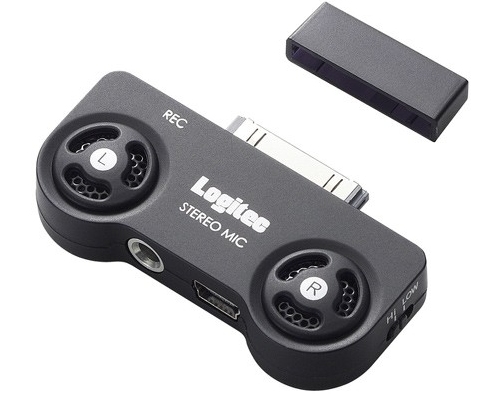 Anyone that owns an iPod has probably noticed at one time or another that all of them lack a common feature found in many other media players – an audio input source. This fact has opened up a market for many 3rd parties to create microphone accessories for the iPod including one of the latest designs, this time from Logitec.
The LIC-iREC01 microphone connects to any model iPod that has a docking port and provides dual microphone for stereo recording straight to the device. It also has an input port for bringing in other audio sources to record aside from the ambient noise, and it has a pass through USB port to sync up and charge the iPod without having to remove the microphone accessory. A switch on the side controls high or low levels of recording and the part that we like best is that it's small and doesn't need any additional cords or loose parts (aside from the dock cap) to operate.
No pricing was given from Logtec but they did say that the LIC-iREC01 iPod stereo microphone was coming to the Japan area yet this month.
iPod Accessories, iPod Microphone, LIC-iREC01, Logitec, mic, Microphone