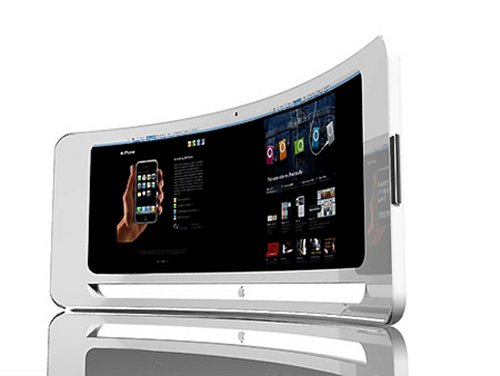 Designed by Nuno Teixeira, this curved iMac concept looks like it belongs on a Star Trek bridge and features a giant curved screen and a second built in LCD screen on the back. Nuno believes that every computer should have two sides and more curves. His "iView" of an Apple's iMac has a lot of sexiness.
Inspiration came from the 1950's CINERAMA wrap-around movie theatre screens. Hence the giant curved screen that is more compatible with the natural curvature of the human eye. The second LCD screen on the back would help students and graphic designers.

Just for the hell of it, Nuno also included two webcams. One in front and one in back. I only wish it were real. Why do they taunt us like this?
[Yanko Design] VIA [Techeblog]
concept, curved, iMac, iview