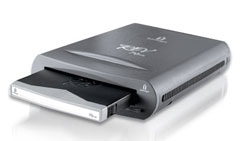 Iomega announced today that its popular backup drive called the REV was getting a significant capacity increase. The REV drive previously topped out with a maximum storage capacity of 70GB (70GB drive pictured). The REV drive will be available in April with 120GB of storage capacity.
Iomega says the new REV drive will be available in two interfaces—USB and internal SATA. A third version with an ATAPI interface is planned for mid-2008. According to Iomega the installed base for REV drives is 350,000 units, and it expects the new higher capacity drives to increase that user base.
The 120GB REV disks will hold approximately 48,000 photos, 2,000 hours of music, or 12 hours of HD video per disk. The REV 120GB Backup Drive has a transfer rate of 35MB/second max and the discs themselves have a 30-year archival life and an estimated one million rewrite durability. Iomega says that pricing for the 120GB REV drive will be announced closer to the April launch date.
backup drive, data backup, Iomega, REV