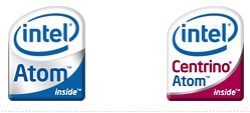 Intel made an announcement on Sunday that they've decided to give a new family of small processor chips the official name "Atom". The Atom family of processors will be low-power chips targeting mobile devices that access the internet as well as lower-end, "Internet-centric" mobile computers. The first two chips to be branded with the Atom were previously code-named Silverthorne and Diamondville.
Both of these chips are expected to hit the market early yet this year. Intel's Sliverthorne chip is designed to run in mobile Internet devices and uses very low amounts of power, even shutting down between processing tasks to further conserve power. The Diamondville chip is a more affordable single processing core chip created for low-end notebook computers.
The codenamed Menlow chip from Intel will also be getting the Atom name, and will now be called the Centrino Atom. Menlow is a low-power companion chip with integrated graphics and wireless radio.
Atom, chips, Diamondville, Intel, Processors, Silverthorne