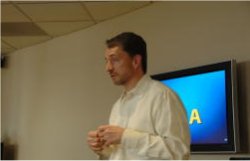 Today Intel announced plans for its future in building processor chips in this seemingly crazy race to build them bigger and faster between Intel and AMD. The latest news involves new chips that promise to bump up processing speeds even more with 2, 4, 6 and even 8-core processors.
Intel unveiled a new microprocessor code-named "Dunnington" which will pack in a 6-core processor as a replacement for current Xeon systems with Quad-core processors. According to Pat Gelsinger, general manager of Intel's digital enterprise group, the new Dunnington processors are expected to be available in the second half of 2008.
As if this isn't enough, Gelsinger also talked about "Nehalem", which is Intel's code name for an entirely new chip design that will hold up to 8 processors on one chip and will also be available before then end of the year. Nehalem could be used to bump up speed on anything from a notebook computer to a server.
To top it off Intel showed off one last code-named processor that is a little further out called "Larrabee". Although Intel doesn't say exactly how many processors the Larrabee chip would have, they did show pictures with as many as 12 processors. This line of chips would be used for very processor-intensive tasks such as graphics programs, and would likely be direct competition for NVIDIA.
6 core, 8 core, Dunnington, Intel, Larrabee, Nehalem, Processors