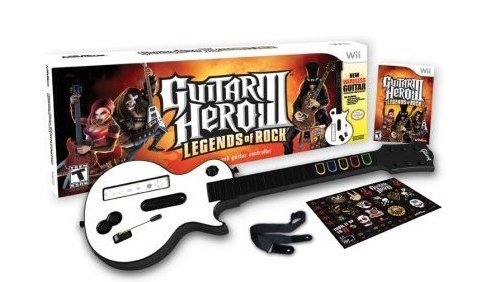 You might have heard about the bizarre Guitar Hero lawsuit from Gibson against Activision. They're claiming that Guitar Hero titles violate one of their patents. Now they have suddenly seemingly gone ballistic, suing everyone in site. Wal-Mart, Target, GameStop, Amazon, Toys 'R' Us and Kmart.
They want the game off the shelves. I guess they don't like making money. Gibson says that it took "this action reluctantly, but is required to protect its intellectual property." Retailers will only say "we aren't commenting,".

You know, if you take guitars away from geeks with dreams of becoming rock stars, you are going to have a nerd uprising on your hands. That won't be pretty. Soon they will all be out of their mother's basement and society will be forced to deal with their hardcore zitty anger. Comic books will fly off the shelves once again…there will be a new Star Trek on TV…Where will it end?
[msnbc] VIA [Engadget]
Gibson, guitar hero, lawsuit, Nintendo, walmart, Wii