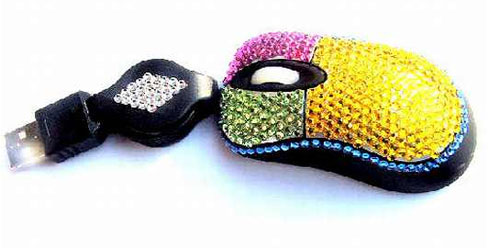 Geeky girls need a glam mouse I guess and we all know that gluing some Swarovski crystals to anything glams it up—right? A company from the UK has done just that and taken a mouse with a retractable cable and adorned it with blue, pink, green, and white crystals.
The mouse itself is a three button mini optical with a sensor that claims to be usable on any surface. The retractable cable can be locked to three different lengths. Each mouse is said to have about 350 genuine Swarovski crystals.
Each mouse can be adorned with up to five different colors of crystals including white, black, red, light rose, rose, orange, light blue, blue, and green. The price for the mouse is about $90. I can't help but wonder why they didn't use a nice wireless mouse.
mouse, swarovski crystal