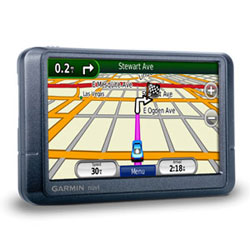 Garmin grew its family of nuvi GPS navigators by four today as it introduced the 2×5 models. These models – the nuvi 255, 255w, 205 and 205W – are considered entry level models by Garmin and part of its nuvi 200 series.
Garmin's new 2×5 nuvis offer up, according to Garmin, "improved mapping and routing features, faster satellite acquisition, navigation by photos, FM traffic updates or dynamic content from MSN Direct." They make use of 4.3-inch or 3.5-inch touchscreen displays with a new shaded elevation map display and include support for download of one's choice of millions of geo-located photos from Google for use as a more visual navigation guide.
Other features of these models, depending upon the specific one, include driving coverage in parts of North America, Europe, Australia or New Zealand, street name announcements and a function to determine exactly where one is located, given in exact latitude and longitude coordinates, the nearest address and intersection, and the closest hospitals, police stations and gas stations.
Garmin, GPS, nuvi, nuvi 260