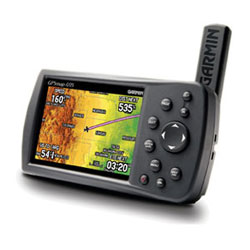 Garmin is out today with word of a new GPS system targeted at pilots. It is known as the Garmin GPSMAP 495 and pricing is set at around $1,595.
The Garmin GPSMAP 495 is designed to help get pilots the information they need to flight safely from start to finish. The unit incorporates a high resolution terrain database and offers options like "terrain and obstacle alerting, pop-up alerts, and customizable minimum clearance limits that give audible terrain alerts at specified altitudes."
Other features include a database of information about regional taxiways and airports, an increased GPS update rate and a smart function which "automatically highlights airspace close to the pilot's current altitude and de-emphasizes airspace away from the current altitude." This will hopefully keep you from flying over the White House. The GPSMAP 495 from Garmin will be available in early April.
Garmin, GPS