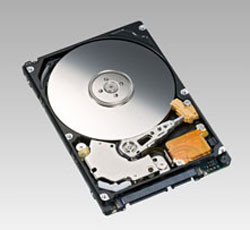 A notebook hard drive sporting 320GB isn't a new capacity and there are larger notebook drives available right now. However, what is interesting about the new 320GB Fujitsu MHZ2 BJ series notebook drive is that it spins at 7200 RPM.
Typically when a notebook hard drive gets into higher capacities it has to slow down to 5400 RPM or even less for some drives. Not so with the new Fujitsu drive, it gets to spin at full speed. Fujitsu says that the drive has an average latency time of 4.17ms and has a read seek time of 10.5ms and a write seek time of 12ms.
The drive is quiet as well with an acoustic output of 2.5bels at idle. The buffer size for the drive is 16MB. Fujitsu hasn't announced pricing at this time, but it says the new drive will be available at the end of June 2008. Pre-orders for OEMs are being taken now.
320GB, 7200 rpm, Fujitsu, hdd, Notebook hard drive