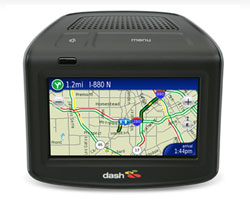 A GPS unit is a great way to find places that you haven't been before and can be a driver's best friend on a road trip. However, in traffic prone areas of the country a GPS unit can even help you get to the places you go every day quicker and easier.
Late last year we covered the Dash Express GPS unit that had one very interesting feature—Internet access. The service for Dash Express starts at around $9.99 per month and allows you to get real-time traffic updates from other Dash Express units on the road.
Another cool thing about the unit is that it gets updated point-of-interest information as well. At the time we first wrote about the Dash Express it was available for pre-order at $599. Today Amazon announced that it is now shipping the Dash Express and if you pre-ordered your unit at $599, I suggest you cancel the order. You can buy it now at Amazon for $399.99.
GPS