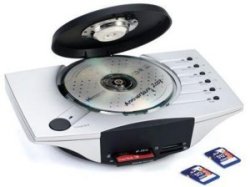 Do you hate it when you have to copy tons of pics from your camera onto the PC, then burn them using software so that they can later be viewed on your DVD player? Yes, there are plenty of cameras that offer TV out, but maybe you love your current camera and don't want another.
If that's the case, check out this device that does it all, without a PC. It's a compact recorder for converting your JPEGs to MPEGs and burning them onto CDs. It can also burn images without converting, making back-ups easier. Comes equipped with RCA and S-Video inputs and also acts as a player.

You can hook a card reader to it via USB and it can read Compact Flash, Smart Media, Memory Stick, Secure Digital, Multi-Media Card, and Microdrive memory cards. It only measures 3" x 10.5" x 10" and is available for $200.
burning, cds, DVD, images, photos, player, recorder