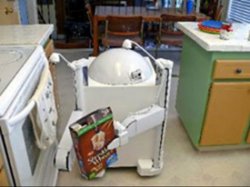 Invented by a group of Silicon Valley engineers, the Readybot Robot is designed to clean up your kitchen. The goal of the project is to find out how much of an average kitchen the robot can clean. Right now, Readybot can take care of 30-40% of daily chores and the team believes that with more programming, they can get that up to 50% in another year. Eventually it will be at 80%. The prototype is more or less, a white enamel box with wheels, with two human-sized arms and chrome accents.
The robot fits in the same counter space as a dishwasher. After activation, he rolls out, deploys several antenna-type cameras, and raises itself up to human height, then gets to work. No info on availability yet, but very soon we are all going to have these in our home. I guess it's a bit nice to know that now they can kill you dead, drag you into their dishwasher sized hole and clean up your disemboweled parts.

Homes will be thoroughly cleaned of dirt as well as human scum. Nay, the world….I for one am willing to keep my home spotless in the hopes that I might be spared to blog another day.
cleaner, Kitchen, maid, readybot, robot