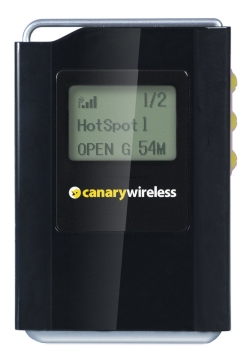 Personally I find little need for a Wi-Fi detector these days since my phone and my notebook both do a good job of finding open networks. If I can't find it with one of those I'm not going to be able to use the wireless network, anyway. There are however a number of uses and apparently still a demand for such detectors however, and Canary Wireless has recently launched a second generation model of their Wi-Fi network detector witt he Hotspotter HS-20.
The HS-20 has some simple operation in a small package to pick up as many as 20 Wi-Fi networks at a time. A button on the side turns on the device and it immediately starts scanning for networks. After a few seconds it will display a list of networks that it found, including those that are secure and/or have no SSID broadcasted.
The other two buttons on the side let you scroll up and down through the networks that it found and a 3 line display shows the signal strength, name of the WiFi broadcast, the type of encryption if any, network speed, channel number and network type (b/g/n). Canary Wireless has the HS-20 Hotspotter available now for about $60.
Canary Wireless, digital hotspotter, hotspot detector, wi-fi