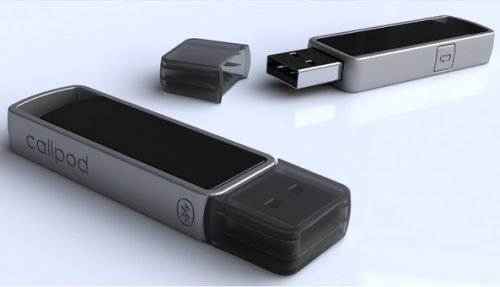 Callpod, makers of that slick looking ChargePod (that really works as good as it looks), has launched the Drone as another piece of convenience for connecting your gadgets. The Callpod Drone is a Bluetooth adapter about the size of a typical thumb drive and plugs into the USB port of a computer.
Once connected the Drone will automatically find and pair with your Bluetooth headset or headphones and give you a 100 meter range of wireless streaming for VoIP phone calls or music. Now granted, once you pair Bluetooth devices manually the first time you are usually set from then on, but we can't complain for making things just that much easier. The adapter also Plug & Play, works with Macs and PCs and allows you to automatically switch from music to calls when the come in.
Made from aircraft-grade aluminum, the Drone is expected to be available sometime in May of this year, but Callpod had no info on pricing at this point.
Bluetooth, Bluetooth adapter, Callpod, Callpod Drone