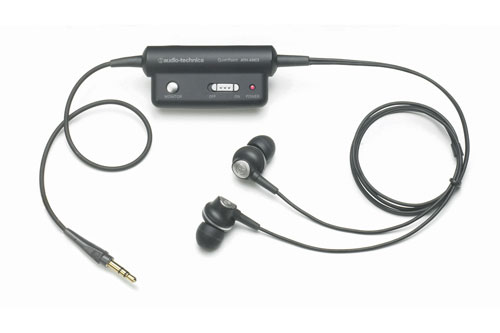 Audio-Technica announced the availability of some new noise-canceling headphones recently. These particular in-ear headphones are known as the Audio-Technica ATH-ANC3 and pricing is set at around $170.
The Audio-Technica ATH-ANC3, according to its maker, blocks up to 85% of outside noise via "patented" technology which uses embedded miniature microphones to detect ambient noise and adjust the sound-canceling signal appropriately. It comes with three sizes of ear tips (small, medium and large) for a customized fit.
Other features of the ATH-ANC3 include a compact control unit with monitor switch, operation without noise-canceling when no power is present and an adjustable cable. You should be able to pick this up now in Apple Stores and other locations.

Audio-Technica ATH-ANC3 [via eCoustics]
audio-technica, earphones, Headphones, noise-canceling