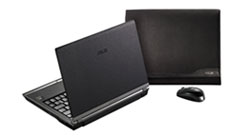 ASUS launched its latest ultraportable notebook today and it's a looker. The ASUS U2E is an 11-inch notebook weighing only 2.7 pounds and clad in leather. According to ASUS the notebook is hand crafted and designed to appeal to the user's sense of style.
The U2E claims to be the lightest notebook available with a built-in DVD-RW drive and the system runs on Windows Vista. Since Vista is resource intensive ASUS ships the U2E with 3GB of high-speed DDR2 memory.
Other features of the notebook include a LED back-lit display, micro-DVI and VGA out and a built-in 8-in-1 card reader. Three USB ports are available and the machine can be had with a 32GB SSD and a 160GB external HDD for $2,699 or with a 120GB internal HDD for $1,999.
ASUS, Notebook, ultraportable