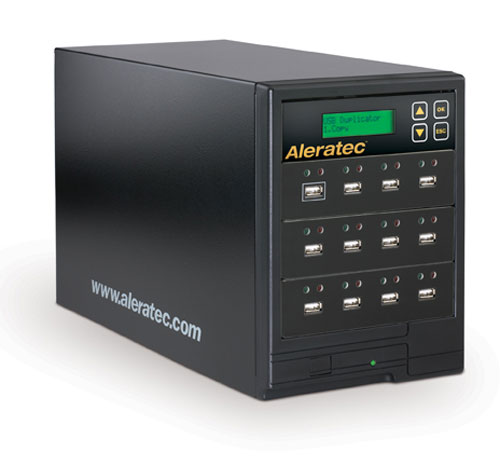 Aleratec, a developer of devices for mass duplication of data onto different media formats, announced today a new USB flash drive duplicator which can work without a computer. It is called the Aleratec 1:11 USB Copy Tower SA and pricing is set at around $1,575.
The Aleratec 1:11 USB Copy Tower SA lets you copy, compare, or erase up to 11 flash drives simultaneously. Controls are handled via a simplistic front panel interface with backlit LCD display. This display "indicates the function selected and also monitors progress and status of each operation and displays the results."
Aleratec added its USB copy device offers "advanced asynchronous USB duplication," meaning that after you load your source flash drive "each target channel can be independently loaded with target flash drives to be copied, compared, and unloaded so copying more than eleven USB flash drives can be done on an uninterrupted basis." That should make it much easier to load up your band's debut album to give away as freebies at your next garage concert.
Aleratec 1:11 USB Copy Tower SA
aleratec, flash drive duplicators, USB Flash Drives