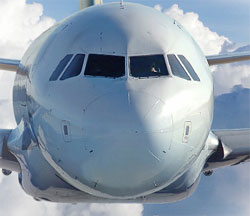 I generally travel a few times per year on business. Once in January to CES in Vegas, E3 in LA in the summer and sometimes to an auto show in the winter. Since I am a through and through Internet guy and spend most of my day online, being on a flight without web access for several hours isn't a welcome thought for me.
If you are like me and want Internet access while on flights you will like today's news. Aircell announced today that it has completed its coast-to-coast wireless network to provide seamless, border-to-border coverage providing Internet access to commercial flights in the US.
The new service is called Gogo and promises to deliver a robust Internet experience at 35,000 feet. Aircell says Gogo will provide access to both corporate and personal email as well as web surfing while in flight. Aircell also says that its network can provide airlines connectivity options to provide video, audio, TV, cellular voice and data services if desired. Both American Airlines and Virgin America have signed agreements to rollout Aircell service on their flights.
aircell, internet