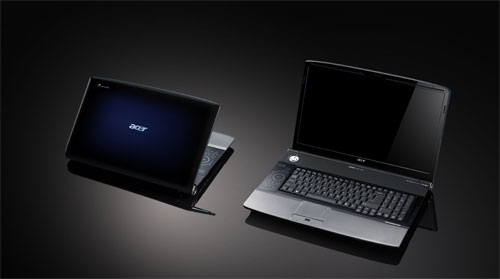 Acer was a little cryptic until this afternoon regarding some new cutting edge laptops it was planning to announce. We now have some information on these – the Aspire 6920 and Aspire 8920 – and the so called "High Definition" experience Acer promises these laptops will bring.
Acer has built these laptops on the backbone of its Gemstone series of designer laptops and are known by the company as Gemstone Blue. With these new models the company has definitely thrown a lot of technology and thought into them. The Aspire 8920, for example, is described as "first to market with a 18.4-inch Full HD CineCrystal LCD panel with 1920×1080 pixel resolution, 8ms response time and native 16:9 widescreen aspect ratio."
The Aspire 6920, meanwhile, offers up a 16-inch display. Both models are tuned for multimedia enjoyment, with features like Dolby Home Theater technology, HDMI ports, NVIDIA GeForce 9650M GS graphics engines and a touch-sensitive media panel. There was no specific word on pricing or availability.
Acer, laptop computers, notebook computers