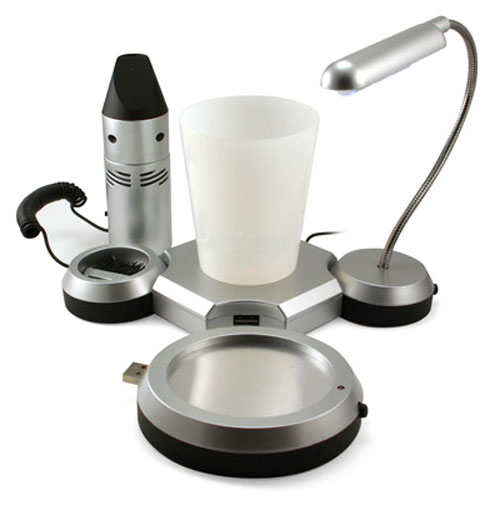 How many USB ports do you have on your computer? Got at least a few freed up by not connecting your USB boxer or Mr. Burns Web cam? $15 will get you multi-functional USB device to round out your ports and USB collection.
The USB Desk Assortment and Gift Set consists of a center base and four arms which sprout out of the center to offer different functions. You've got total combined offerings of, in no particular order, a USB 1.1 hub, a pen holder, a cup warmer, a mini lamp, a mini vacuum and an open port.
Now we aren't saying this will be useful to everyone, but for $15 you do get a sort of Swiss Army knife of cheap USB accessories. We can't exactly guess how much use you'll really get out of it though, but at least it is something else to clutter your cube at the office.
USB Desk Assortment and Gift Set [via Dvice]
thinkgeek, USB