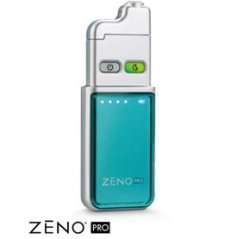 If the mpion MP3 player didn't remove your hardcore teen acne, try this Zeno device. It claims to be an acne Clearing device, that will improve your complexion. In fact, it's the 1st FDA approved home gadget to remove acne.
The tip heats up when applied to a pimple. Supposedly that will cause some sort of a shock to the bacteria that causes acne. They claim that "two to three 2 1/2 minute treatments spread over 24 hours are sufficient for most pimples" and most pimples will disappear. There's no question that this is the geeky gadget way to remove acne, but does it work? I think if ANYTHING worked the way they claimed, there would be no need for this product. It retails for $184.95.

If that's out of your pimple budget, you'll just have to stick with Clearasil.
[Sharper Image] VIA [Chip Chick]
acne, breakout, device, pro, zeno