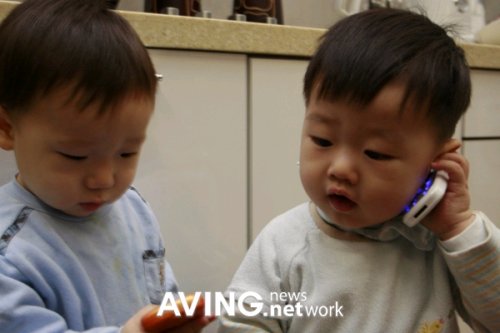 Here's an interesting way to pimp out your toddler. Korean company YoungToys released a cellphone/digital toy aimed directly at kids and toddlers. "Zeki" uses Near Field Communication(NFC) technology to communicate between mom and kid, or kid and kid, up to an 80-meter distance. Some other features include mp3 playback, voice & video recording, SMS and alarm function and the ability to absorb kid germs.
Zeki also supports the exchange of data between devices, so kids can exchange songs and videos, or plot the demise of an adult. The $105 device is made from materials harmless to their rugrat bodies and the phone is apparently shielded against electromagnetic waves, so you do not have to worry about your kid's brain being fried. This would go well with the Sweetpea MP3 player he/she has already drooled all over.

This would be great for Family guy's Stuey.
cellphone, Kids, MP3, sms, walkie-talkie, Zeki