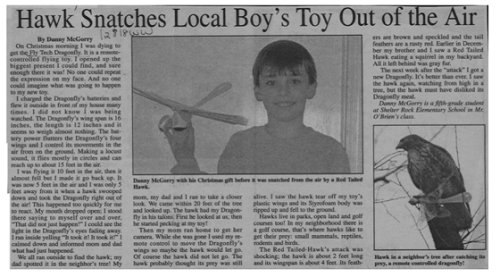 Apparently the FlyTech Dragonfly really is an awesome flying device. Nine out of ten hawks agree, that the things look pretty damn tasty. The toy has been fooling quite a few birds of prey lately.
Some kid on Long Island had his FlyTech Dragonfly snatched out of the air by a hungry hawk that mistook it for actual prey. I guess this is a testament to the toy's ability's, or maybe hawks are hard up for food. After investigating the story, WowWee's Customer Service Department said that it has received 45 different calls over the past 2 months. That's right, hawks everywhere and other birds of prey are swooping down and snatching people's FlyTech Dragonfly out of the air.

If the hawks keep taking our toys, Pretty soon it's going to be open war. I am immediately painting my FlyTech Dragonfly like a WWII fighter plane.
attack, Dragonfly, FlyTech, hawk, toy, WowWee