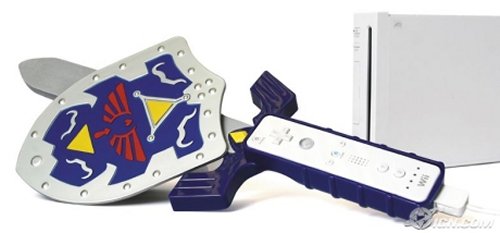 We've come across our share of Wii accessories, some cool, some odd, all entertaining. So we thought we'd make a list of some of the stranger Wiimote gadgets and celebrate this odd gaming phenomenon. So here's a list of some of our favorite Wii items Wii either wish for or wish didn't exist, in no particular order. The Wii sure has brought some strangeness to gaming.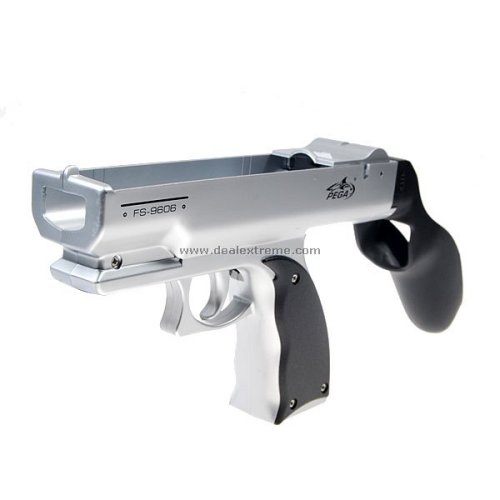 Metallic Nintendo Wii Machine Gun-Make like Scarface with this Wii accessory. Say hello to my little friend. It will transform your Wiimote and Nunchuk into a silver machine gun, detailed in black. Get one for from DealExtreme for $16.54.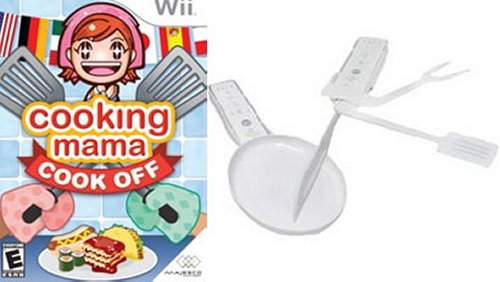 Wiimote Kitchen utensils-How many Betty Crockers do you know that are playing the Wii. My guess is they missed the boat with this one. They should have had Rachael Ray endorse the thing and watched them fly off the shelves. This may help you score some points for the Cooking Mama: Cook Off game, but you will look like a total dork. The game pits you against other players as you prepare recipes and face off against 10 different nations. Someone needs to stop these people. How on Earth can you take yourself seriously in any competition while holding this thing? The Wiimote kit is only $20, but you will wonder what happened to your dignity.(Not technically a weapon…depending on your cooking skills)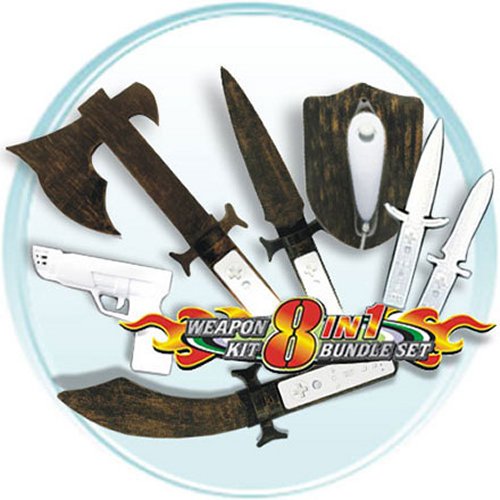 Wiimote Assassin's kit-That's about what it amounts to with this bundle from Dragon Electronics, which offers no less than eight deadly ways to accessorize your Wiimote and nunchuck. It includes a pair of daggers, an axe, a curved sword and a pistol to name a few. There must be some Chuck Norris Ninja game that I'm not aware of. What's next, a screw together Wiimote rifle that comes in a silver briefcase? Get this bundle for just under $30.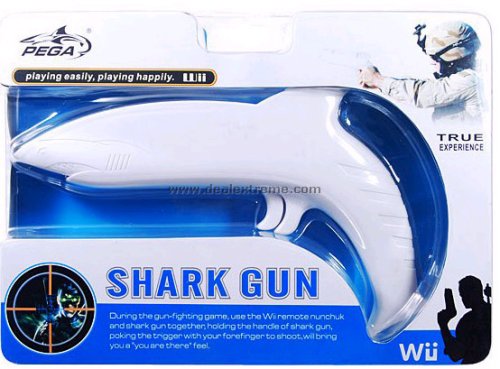 Wii Shark gun-Yeah, I know. Wtf, right? Does it jump the shark? Probably. I think the packaging says it all, showing a tough U.S. soldier in uniform aiming this thing at the target. Then in the lower right we see the typical James Bond like silhouette. Apparently the world loves this gun. I especially like the "Playing easily. Playing happily." slogan. They left out, "Looking like a tool".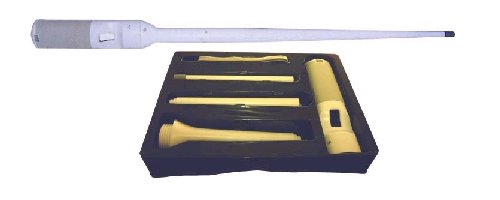 The Wii Pool Stick-Someone's going to end up with a poked out eyeball. You can feel like a professional Pool shark when you are depriving others of sight, thanks to this five piece screw-on pool cue attachment.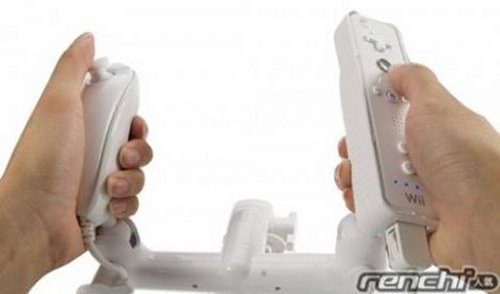 The Wii Airplane Navigator-If you see your pilot flying with this thing, it's time to grab a parachute. It comes complete with a suction cup base. Yeah, I'm sure that will keep it secure.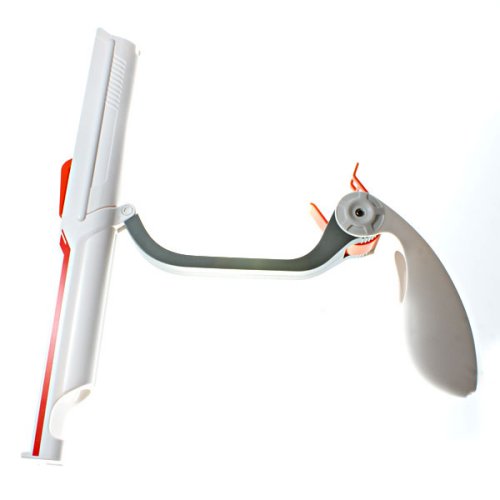 Wii Shotgun-This is the "Get the hell off my lawn" wii accessory for the older gamer who likes to sit on the porch. Not very stylish, but great for those who want to play softly and carry a big stick.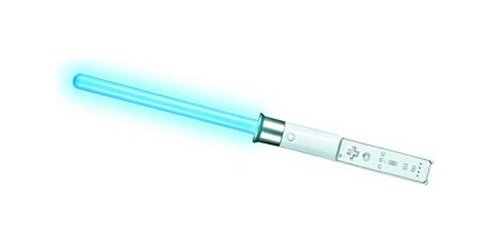 The Wii light sword-The Wii version of the lightsaber. A few features on this one are a power up/down effect for saber glow. It can also be dimmed down. It sports 22 ultra-bright LEDs and an on/off switch. $31 is all it takes to be a very happy Jedi with this one.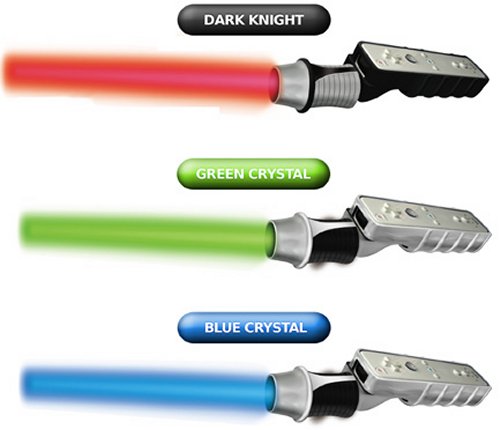 Camy Light Sword Wiimote Holsters-These are for those that want some Jedi action, but also want to feel odd about the force as they are not quite lined up with the remote sensor. They are available in three "ultra bright" colors.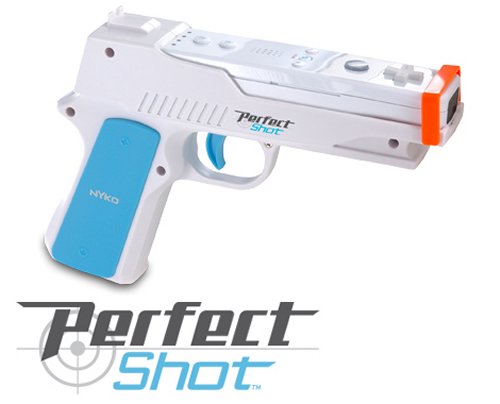 Nyko Pistol-It's very reminiscent of the original Wii zapper in some ways and also looks and feels more like a real gun, with a decent grip. The Wiimote goes right on top, it has an easy trigger and shoots well. You can get the Perfect Shot on the Nyko website for just $14.99.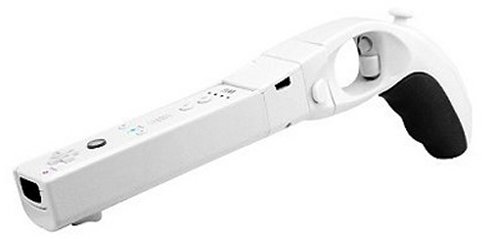 Wii Gameblaster-This one's kinda cool looking in a vintage Sci-Fi movie way. Looks pretty comfortable too. The price is $34.99.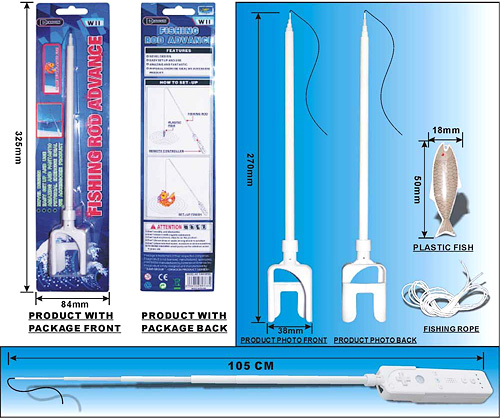 Wii Fishing Rod-Even those who love the Wii and own every attachment known to man will have to admit that the Wii fishing rod from Dragon may be taking things a bit too far. It even includes a telescoping rod with faux fishing line. If that wasn't enough, they also saw fit to include a fake plastic fish to dangle from your fake fishing rod.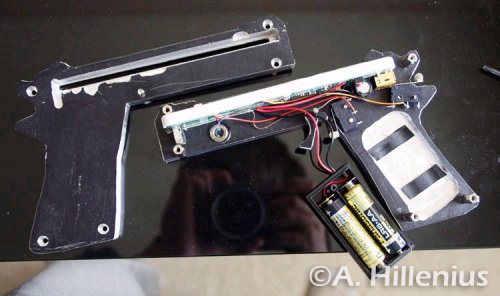 Colt 45 Wiimote Mod-If Wii guns just aren't doing it for you, make yourself a more authentic vesion. A Wii weapon that will actually get you shot by the police.
There you have it. By no means a complete list, but it encompasses some of the coolness and some of the insanity of the Wiimote phenomenon.
accessory, attachments, gun, list, Nintendo, top 10, Weapons, Wii, Wiimote