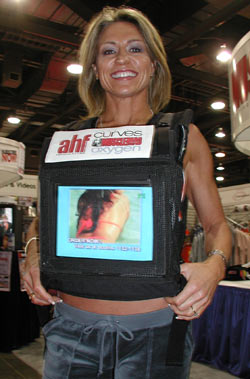 This Video Vest screen certainly gets your attention. Why carry a boring cardboard sign, when you can get your message across with video, like a picket line for instance or to advertise your business. The Vest actually plays full-motion video with stereo sound so that you have a portable video display anywhere you want.
Apparently regular Joes like me and you can't buy one due to the vest's high cost and limited manufacturing, but you can rent one for live events and such. That really sucks because my thinking was that we could put some flat chested girls in this vest and give them a larger rack via video. It would have been my gift to them. I'm a giver.

See. The woman in the picture is quite happy about my idea. And depending on how heavy the vest is, it would feel like lugging around the real thing.
advertisement, clothing, tv, vest, video, wearable