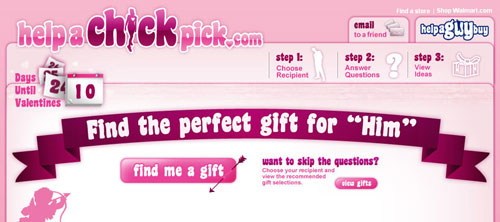 Taking a look at this new online shopping tool Help a Chick Pick you at first glance think it might be another splashy Web start up. Turns out that isn't quite the case – the site is a new offering from retail super giant Wal-Mart.

Help a Chick Pick, and the newly relaunched Help a Guy Buy, are attempts by the retailer to appeal to a more Web savvy user base. Wal-Mart describes these sites as being able to "customers not only identify the gift profile of their significant other, but the perfect gift, at the perfect price, to complement it." They of course point you to Wal-Mart listings.
Wal-Mart said customers answer some questions about their other's personality and the shopping tools will offer up "ideal gift suggestions." No word on whether it comes with a smiley face which alters prices.
Wal-Mart, Web sites