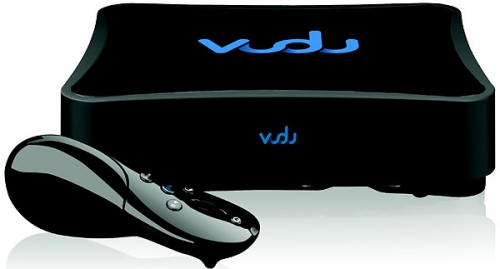 Vudu is making some moves to keep in strong competition with the yet-to-be-released second version of AppleTV, this time offering a software update and more high-def content. This software update to version 1.2 comes not much more than a week after Vudu gave their system a 25 percent price cut bringing it down to $295 and closer to AppleTV's $229. AppleTV had recently announced the "take 2″ version will add on features that will allow users to download video content to the appliance without the need of a computer in between, which is a feature that Vudu possessed and AppleTV did not.
The recent software upgrade for the Vudu video system brings some new features to improve user experiences with choosing videos to download. A new indicator will evaluate the current broadband speed and indicate if the selected video will download and show well without any skips or extended delays. When searching for a video it can also recommend titles for instant start based on the connection speed.
In addition, Vudu has also increased their inventory of HD movies which will now go for $4 each making them the same price offered by Apple. It seems clear that both Vudu and Apple know that what really matters is the available content and how easy it is to get to our TVs. Both services look impressive and we just love how competition like this almost always works out in the consumer's favor.
via Wired
AppleTV, HD, software update, video, VUDU